Parent Zone
Parent View
Parent View is an online questionnaire that allows parents and carers to give their views about their child's school at any time. It is also the main mechanism for parents to give their views about their child's school to inspectors at the time of a school inspection. The questionnaire can be accessed directly from the Parent View site at https://parentview.ofsted.gov.uk or from the home page of Ofsted website at www.gov.uk/ofsted.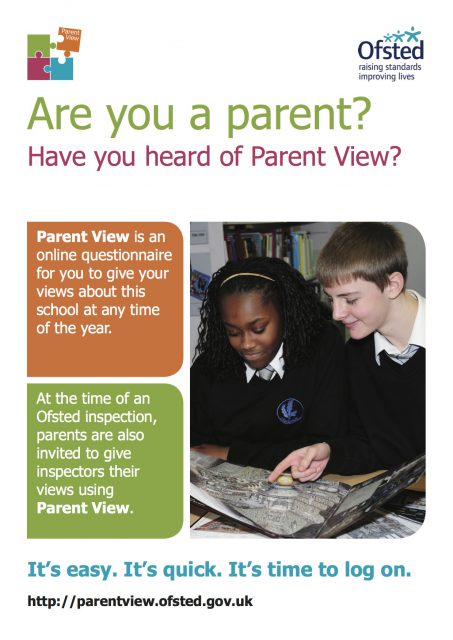 Parent Questionnaires and Feedback
Parents Evening – March 2019
On parents evening, a large percentage of you completed the parent questionnaire and feedback form and we appreciate that you did. Your views are very important to us. We appreciate and value all feedback so that we can continue to improve the educational experience that we provide for your children. Please find below the results of the questionnaire, which were overwhelmingly positive and we thank you for that. Rest assured we will be working tirelessly to ensure that any concerns raised during parents evening are addressed. Please come into school to discuss any concerns that you may have. We are here to help and are always available.
Overall Results

We know from your feedback that our school is a safe place for your children. We pride ourselves on the fact that our pupils feel safe and happy and are ready to learn. This was the highest scoring area of the questionnaire with 84% of parents strongly agreeing. This was a 2% improvement from last time and something we are very proud of!
We are glad that you think your children are taught well and make good progress. This is particularly pleasing as all returned questionnaires either strongly agreed or agreed with those statements. A 100% success rate is certainly something to celebrate.
We have made several changes to the way we provide homework and this has been recognised by the parents/carers. We have tried to make the homework more interactive and purchased Times Table Rockstars which we know is having a big impact. We will continue to try and improve in this area. 
We understand that bullying happens in every school and we always work hard to address issues of bullying effectively and efficiently. It is pleasing when so many of you completing this questionnaire recognise the significant amount of time and effort we have invested in improving how we deal with the small number of bullying incidents we experience. The feedback we received in this area was very pleasing, particularly one parental comment which said: "the school deals with bullying brilliantly". 
Almost all parents agree that we respond to any other concerns they may have. However, as a school we need to concentrate on the small minority of parents who disagree. And we will! If you ever have an issue or concern, it is vital that you speak with your child's class teacher, Mr Leach, our Designated Safeguarding Lead, myself or any other member of staff promptly so that the issue can be resolved and appropriate action taken. Our doors are always open.
It is extremely positive that 98% of you felt that you were kept up to date with what is happening in school. We have a fantastic Twitter feed, a great school website and weekly newsletters in place to keep you as up to date as possible. Lots of hard work has been put into this area and it is pleasing to know that it is recognised. We are working hard to further develop our relationship with you, the parents of our children, and take on board some comments you made about providing more notice for some of the activities and events we offer. We do try to do this but sometimes we are not given much notice ourselves. Please check out the calendar on the school website for events taking place up until the Easter holiday.
I would like to take the opportunity to direct you to Ofsted's Parent View website. Parent View is an online questionnaire for you to give your views about this school at any time of the year. It's easy, it's quick and it's a great way of sharing with Ofsted what a great school Florence Melly is.
Lastly, I would like to leave you with a few of the wonderful comments left by our parents…
Comments left by parents
"I have been very impressed with the school. Keep doing what you are doing – it is excellent!"
"The level of education, dedication of the staff and overall conduct of the pupils is second to none."
"Brilliant school! So supportive towards my child."
"My daughter loves coming to school. Very friendly atmosphere and everyone is very helpful. She would be here 7 days a week if she could."
"Carry on with what you are already doing. Wonderful school."
"Keep up the good work. The events held at school and in the community for our children are brilliant. Thank you." 
"My daughter's confidence has come on leaps and bounds this year and she is really benefitting from the smaller class sizes."
"My son really enjoys coming to school and looks forward to it everyday. He feels comfortable and is making good progress."
"Everything you do is very positive both in learning and behaviour. Keep up the good work."
"I am really happy with how well my children are taught and looked after in school."
"My girls are very happy in school. They feel safe and they have fun."
"I like the newsletter that we receive to keep us updated and the fact that this is shared on social media as well. I think this is a great school and my son is very happy here."
"Excellent school – brilliant activities in school and the community. Thanks!"
"We are happy with both our children's education here at Florence Melly. Thanks you!"
"I am very happy with the progress my child is making. He is happy here."
Once again, thank you for the fantastic support you have shown. 
Kindest Regards.
Mr Heaton
Headteacher
Online Safety Session for Parents
A big thank you to those parents who attended the Online Safety Session with Paul Bradshaw. We really appreciate your support and hope that you left with some practical strategies to best support your child/children to be safer when they go online. The feedback from parents was extremely positive and as a result, we will be offering further sessions later in the year. If you have any questions or concerns relating to online safety, please do not hesitate to contact Mr Leach, our Designated Safeguarding Lead, who will be happy to help.
Comments left by parents
"What a fantastic session. It really opened my eyes to the dangers my children face but more importantly, showed how to allow my children to work safely online." (Parent)
"Really interesting and informative. Thank you so much – every parent should listen to this!" (Parent)
"I found this very interesting! I'm so glad that I attended as it opened my eyes to what goes on. I will definitely be keeping more of an eye on my kids with this new knowledge. Thank you." (Parent)
"Well presented and very informative. I found the session very useful." (Parent)
"It is nice to see the school take a proactive approach towards online safety and recognise what an important issue it is. A huge thank you to staff for arranging this and to the parents for attending. They certainly left with a better understanding. I'm sure that our pupils will love the sessions this afternoon." (School Governor)