Governors' Information and Duties
Governing Body Constitution
There are 10 positions, 8 are filled and there are currently 2 vacancies.
Governing Body Instrument of Government
This document explains how the governing body of Florence Melly Community Primary School is constituted. Section 20 of the Education Act 2002 requires all maintained schools to have an instrument of government which determines the constitution of the governing body and other matters relating to the school.
Governing Body Information and Duties
This document contains details of:
the structure and responsibilities of the governing body and its committees
the full names of the Chair of the governing body and Chair of each committee
information about each governor, including their:

full name, date of appointment, term of office, date they stepped down (where applicable) and who appointed them (in accordance with the governing body's instrument of government)

relevant business and financial interests including:

governance roles in other educational institutions
any material interests arising from relationships between governors or relationships between governors and school staff (including spouses, partners and close relatives)
Governors' Information and Duties 2020/21
Governing Body Attendance Records
These documents contain information about governor attendance at governing body meetings: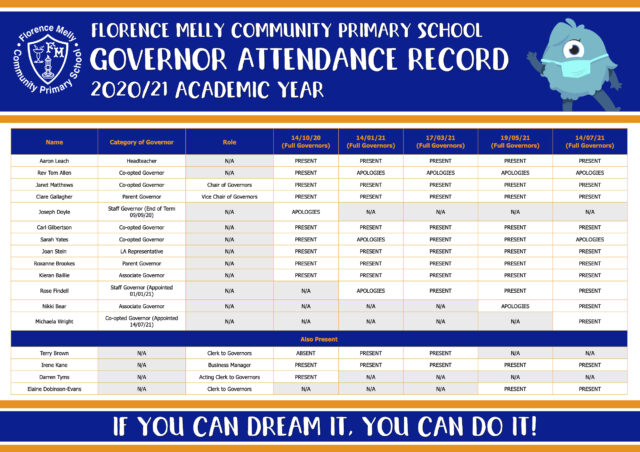 Governor Attendance Record 2020/21
Governor Attendance Record 2019/20
Governor Attendance Record 2018/19
Governor Attendance Record 2017/18
Governor Attendance Record 2016/17
Meet our Governing Body
Janet Matthews – Chair of Governors/Co-opted Governor/Link Safeguarding/SEND Governor
My name is Janet and I am the Chair of Governors. I attended Florence Melly myself and after my eldest daughter and son had been in the school a few years a vacancy became available on the governor body and I applied to become a parent governor in 2014. I really enjoyed being a governor and when my parent governor term came to an end, with the backing of the full governing body, I became a co-opted governor in 2018. After receiving a lot of help and support when Ben (who has significant special educational needs) started in the Nursery, I really wanted to be able to help the school move forward and support and challenge the staff. I have a particular interest in Safeguarding and SEND, I am an active member of PATCH and I really enjoy volunteering in the school library. I am married to David, who is a chef in Alder Hey and we have 3 children…Ava who has now moved to secondary school, Ben in Year 6 and Chloe in Year 5.
Roxanne Brookes – Vice Chair of Governors/Parent Governor
My name is Roxanne and I have two daughters currently at Florence Melly – Poppie in Year 6 and Mollie in Year 4. I also have a son called Jake who attended Florence Melly and thoroughly enjoyed his time in the school. I work as a secondary school teacher and thought I may be a good addition to the governing body with already working within education. I became a parent governor a couple of years back to take a more active role in my children's education. After seeing all the hard work that goes into educating our children and how dedicated the staff are, I am confident that Florence Melly offers all children the best possible start in education. The Florence Melly community goes above and beyond any expectations and ensure the pupils always get the best deal possible. My family and I love Florence Melly and thoroughly enjoy all of the brilliant events, activities and opportunities that our school provides for the children.
Aaron Leach – Headteacher
My name is Aaron Leach and I am the proud Headteacher at Florence Melly Community Primary School. I live in West Kirby with my partner and two wonderful children. I have worked in our school for almost ten years and really feel part of this community. I initially came to the school as a student teacher and was lucky to secure a teaching post in Year 5 a couple of years later. Since then I have held multiple positions, progressing to finally leading this amazing school, realising a a long-term DREAM of mine! I have experience of teaching across the phases from EYFS to upper Key Stage 2 and have worked in requires improvement, good and outstanding schools. I am also a Governor at West Kirby Primary School where my daughter attends and have responsibility for Pupil Premium.
Carl Gilbertson – Co-opted Governor/Link Pupil Premium Governor
My name is Carl Gilbertson and I am a Co-opted Governor at Florence Melly Community Primary School, with specific responsibility for Pupil Premium. I have fifteen years experience as a Governor and was co-opted onto our board in 2017. I am also a Governor at Wellesbourne Primary School, Archbishop Beck Catholic College and St Vincent de Paul Catholic Primary School in Liverpool City Centre, where I myself attended. Professionally I hold a number of directorships, most notably I am the Managing Director of MGL, the leading provider of IT support to schools across the North West. I am a qualified accountant and have been previously awarded Merseyside's Business person of the Year. I am a fellow of the National Association of Digital Citizens (NADC) and have undertaken a number of speaking engagements on behalf of the National Education Science and Technology Agency (NESTA). I am also an ambassador for the Child Exploitation and Online Protection Centre (CEOP). Away from business and education, I have been a season ticket holder at Anfield for 35 years and as the picture proves, I am my wife's favourite comedian!
Rose Findell – Staff Governor/SENCO
My name is Rose Findell. I am the Staff Governor and SENCo. I live with my two sons and our two cats. I'm passionate about tennis: watching and playing and I love walking, especially in the countryside. I'm a practising Christian and a Coeliac. I believe life is very precious and I love to laugh and make the most out of every day. I've been at Florence Melly nearly 21 years now and its definitely my second family.
Michaela Wright – Co-opted Governor
James Kilburn – Co-opted Governor
Joan Stein – LA Governor
Kieran Baillie – Associate Member/Assistant Headteacher
Nikki Bear – Associate Member/Assistant Headteacher
Elaine Dobinson-Evans – Clerk to the Governing Body