School Uniform – Dress to Impress!
Our school uniform and the expectations from September 2021
We see school uniform as an essential part of school life. It is a symbol of belonging and something that unites all children in Florence Melly Community Primary School. Starting from September, we will be having a huge push on making sure that the children are wearing the correct uniform. We will be setting the highest of standards and expect your complete support and cooperation. Over the past few years the standard and monitoring of pupil's school uniform has slipped. In my opinion, we have not set the standards high enough. From September, we want that to change!
Our Uniform Expectations
Please click on the links provided for a comprehensive overview of our uniform expectations:
Purchasing our School Uniform
To help support our parents/carers, most of our school uniform can now be purchased from our school office – this is a new initiative we are running and one that we are very excited about. We have created a digital order form which you can access via this link: https://forms.office.com/r/Cw6BLPhZZn. Alternatively, our uniform can also be bought from the school office or Lisa's School Wear on Priory Road. We don't make much money on the items we sell but anything that we do make will go straight back into our budget to spend on the children. It supports our school! Please see the uniform price list below: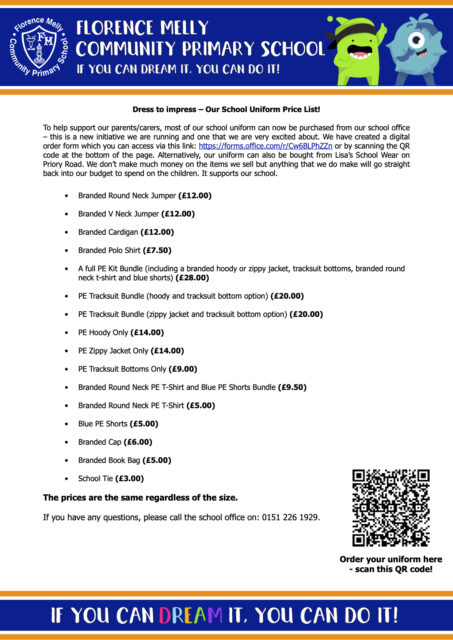 Lost Property
In order to ensure that your child's uniform can be returned to them swiftly if lost, it is essential that all labels are clearly marked with your child's name! When items are found, we add them to our lost property area, Please see your child's class teacher or a member of the office staff if your child has lost an item of clothing. Each Friday all lost property will be available to view on the playground from 3pm. Any item of lost property that has not been collected within 2 weeks will be donated to St. Andrews clothing bank.